Everyone encounters various incidents throughout his life. Some are tragic, some are funny and some are super hilarious. There are few you forget over the time, but there are some incidents that stick to your memory always.
Math made simple : I had 20$ and my wife had 5$..She has 25$
I would like to share some of such incidents, some of which I was a victim of, and some which I  witnessed. Hope you have a good laugh while going through these incidents. Who me?? I am still laughing 😀
1) Reverse DDLJ:
While returning from Gujarat on a family trip, we were waiting for our train. There was a train already standing on the platform on which our train was expected to come.
While that train started leaving the platform, suddenly, an old man, in his sixties, started running towards the train.
While running, he was shouting at the top of his voice, PRASHANT BHAAAI, PRASHANT BHAAAI.  All of us assumed he missed his train. He kept running and shouting  PRASHANT BHAAAI, PRASHANT BHAAAI.
Then there was a hero entry of PRASHANT BHAI, who came near the door of his coach. He saw the old man running.
We assumed that PRASHANT BHAI would give his hand to the running man, and help him to get into the train. (Yes, finally I was going to watch DDLJ scene, LIVE..I was so excited)
Sadly, the running old man screamed,
" PRASHANT BHAAAI, AA AAPDI TRAIN NATHI, NEECHE UTRO " (This isn't our train, get down)
Worried, astonished  PRASHANT BHAI threw all his luggage out of the train.
He then jumped out of the running train. 
                                                                  source
2) Reverse Headbutt :
Once I was going on a trip with my family by a private bus. We were all very enthusiastic and excited for the trip. The bus was on a highway. I was standing on the passage of the bus, and explaining a movie to others, with the help of sign language. The bus driver had brought a boy along with him, for assisting him who stood near the door of the bus. It went on like this :
While the bus was running on the highway, the boy saw something on the road, that caught his attention, and all of a sudden he jumped out of the bus.

The bus driver saw this, and he thought that the boy fell out of the bus. So the bus driver stopped the bus immediately applying full brakes.

Because of the brakes, I was thrown forward, and my nose collided with the head of my aunt, who was sitting in the first seat.

My nose was bleeding badly. Looking at the blood of my nose, my sister fainted. Then, looking at my sister fainting, my brother started vomiting.




That awkward moment when someone skinnier than you say I am so fat and just stand there

The interesting fact is that I hurt my nose, my sister fainted and my brother started vomiting, all started only after the boy jumped out of the bus. However, surprisingly, no harm was caused to the boy, who jumped out of the bus.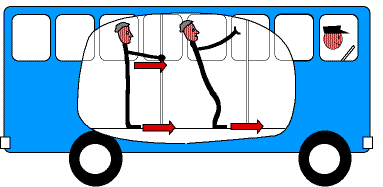 source
3) The School Assembly :
When I was in school, we used to have assembly every day, before the lectures would start. In the assembly we all stood, joined hands and recited prayers. One fine day, while the prayers were on, my mind got diverted to some random thoughts, I forgot that we were praying. The prayer got over, and everyone, except me, got seated. I was still standing in the position of praying, mentally in some other world. I did not realise that the prayer is over, and all others are seated.
In a while, everyone realised that I am still standing. They all decided not to tell me about it, and enjoy the scene. My friends were also looking at me, but they also decided to be silent. As it is said, ' HAR EK FRIEND KAMINA HOTA HAI '. 
Somehow I came to know that the prayers are over. On realising this, I sat immediately. The entire class laughed on me and for months my friends kept asking me, what thoughts I was into. Shhh, they were good thoughts, I am not serious 😀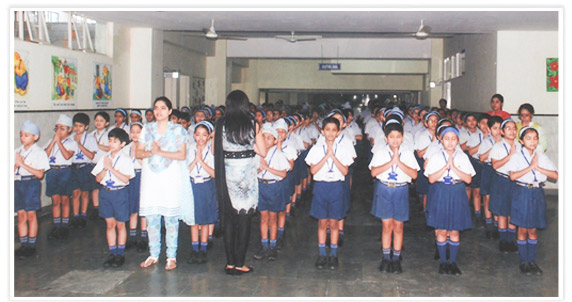 source

4) The Crazy Pedestrian : 
I was returning from my college with a friend. I noticed a pedestrian, who was looking for people who are coming in groups. Those kind of people who were not looking towards the road, but were engrossed in their own group talks. This pedestrian would go towards such group, select a particular person, and scare him/her by shouting at him/her suddenly.
I bought my friend's attention to that pedestrian. We decided to observe that pedestrian for a while. One by one, groups kept coming, and he kept scaring people. In a particular group, a boy got so scared with the prank, that as soon as the pedestrian shouted,he ran towards the other side of the road.
                                                                     source
5) The Slide :
Once I went to a resort, there was a water slide where one could come down with only a ring, where one cannot go without that ring at all.
I was standing down, suddenly I saw only the ring coming down, without any person sitting on it. After a while, a person came following the ring. When the person had started the slide, he slipped from the ring. So the ring came down and he was left without ring on the ride.
The man had to crawl his way down to complete the slide. He was about to reach the end, when he saw a person coming behind him, with a ring, in full speed. He got scared, so he stood up, and started running on the slide to complete it before the person behind him could reach. However, he was not able to finish the slide quickly, and he hit the person behind him. The person flew of the slide into the water, directly.
                                                                      source
6) The One with the SAME Name :
I was waiting at the station for my train. When the train arrived, I got seated. People started calling my name..
"Hello Karan, Hello Karan"
I looked everywhere, but I could not recognize anybody, all were strangers. The train was crowded. After a while, I could again hear people calling me.
This time they were saying, " Karan, give me your bag"
I was confused as to Who is calling me? Who wants my bag? Felt scared too. 
Then I turned back and realized the other person, whose name was also Karan, had got into the train along with me, and people were calling 'that' Karan.