Obesity?
We all are heading towards obesity, some though very slowly. Sedentary lifestyle, no or little exercise, adulterated food, stress are some of the reasons that helps a person in becoming 'obese'. It is actually a myth, if you are fat and your friends tease you for being so by saying that you eat a lot. Possibly you eat a lot less than you friends, still you are fat/obese.
                                                                     source
We all keep reading so many articles, if not you, I surely keep reading and watching YouTube videos on loosing weight, though I am not over weight, I am just a girl (hope you understood the pun) 😀 Most of us are so addictive to the socially set up boundaries that we start feeling bad about ourselves, continuation might lead us to a disease called as 'Body Shaming'. Body shaming is defined as inappropriate negative statements and attitudes toward another person's weight or size. It can also reach into the discrimination against individuals who may be overweight.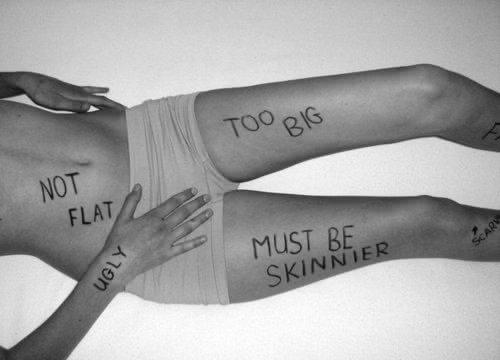 source
I would blame the beauty products too who pictures a fat girl and prove that being fat is something to be ashamed of or being dark is a like a taboo. I do not deny one should not take due care of food intake and not exercise, but it has be to a certain extent. Just because society has seen an advertisement and believes that a waist line above 'x' cm is fat does not mean one should start feeling bad about oneself.
                                                          source

Heard the news of Kerela imposing 'Fat Tax' at 14.5% in the budget??? Let us have a brief about it is :
1. Residents of Kerela will now have to pay an 'additional' tax of 14.5% if they eat at branded restaurants selling pizzas, burgers, tacos, sandwiches, pasta and patty. This would be over and above Service tax, Swachh Bharat tax etc.
2. Kerela is the First Indian State to impose such tax.
3. Denmark and Hungary were the countries to impose similar tax, however Denmark withdrew the tax later.
4. Kerela has also imposed 5% tax on ready to eat packaged products like chappati, basmati rice and coconut oil.
5. Kerela has also imposed Alcohol ban in 2014.
On questioning the Finance Minister, Isaac said "This is a healthy and environment-friendly budget, and fat tax fitted very well,". The proposed tax may hit fast food majors.
We all are aware of the fact that Kerela has the highest literacy rate of 93.91% as per 2011 census and a sex ratio of 1084 females per 1000 males. The frightening part is the state ranks second in the most obese state of the country both in males and females, the first being Punjab (based on data from National Health Survey Done in 2007) The alarming news is that the children in Kerela show 3% obesity in boys and 5.3% for girls.
We should be happy that Government of Kerela is helping the much educated residents to live healthy too.
Let us have a look at the some of probable lessons to be learnt from this:
                                                                        source
1. We should all take care of our own Health, if not then should be ready to shell out more if not in form of tax then for medicines. Even if shelling out more isn't an issue for us, then we are heading to danger health zone.
Government should not have to come up ideally to tell us, that too in the form of 'tax' that what we are getting addicted to is not good for health, we should be the one who should be most bothered about ourselves, our well being. Health is really a wealth.

2. We blame Government for imposing additional tax on us, when it has taken a remarkable step towards health, we should all appreciate the step instead of criticism.

3. Say no to 'Body Shaming'. I am not against beauty products, even I use many of them but not because society calls me fair/dark or slim/fat..just to take care of my health. Never follow the rat race, understand your own body and agree to what it says instead of crying over not having a size zero figure.
                                                                         source

4. Say no to Stress, though saying it is easy but it 'has' to be practiced to be in good health, walk a little, jump a little, laugh a lot, live more.
5. Self Love, people would be judgmental always, we should accept ourselves the way we are. Be it fat, thin, small, large or extra large, we are best the way we are. If we feel worse about the way we look, we should try to come out of it and stay away from people who make you feel so. We should compete with ourselves, self control on things that are bad to us works best, rather than being jealous of others whom you wish to be.
 Though imposing 'Fat Tax' is not the only way to curb fats or stop people from eating less healthy food, still a small step towards good health is we all should start taking. Because it is never too late.