Childhood!!!! doesn't this word make you smile??? let us find few reasons why..
We could do whatever we wanted to, without actually giving a damn to the World.

Even if we gave back answers to people, they would shower love on us.

Being as dirty and untidy as we wished to, still addressed as the cutest child in the colony..etc etc.
When we are all start growing up, our parents, relatives, neighbors and even the people not related to us, used to tell us ' Beta aisa mat karo, waisa mat karo..LOG tumhe pagal samjhenge'. Beta waha mat jao, waha shareef log nai jaate. Beta aise kapde kyu pehen rakhe hai, pink rang to ladkiyon ka hota hai (for boys). Beta tumne duppatta kyu nahi liya..ab tum badi ho rahi ho (for girls)'

                                                                                               source
Ironically, the kids of people stopping others (log kya kahenge trend followers) are generally the ones who at first place behaved badly, wore so called 'indecent' clothes, lie and do everything on which 'Log kya kahenge' would come.  When pointed these 'log kya kahenge' trend followers would say 'I couldn't control my own son, hence I want you to be a GOOD person'. I still ponder on the definition of 'GOOD'. Is it being a prisoner of the society that makes you GOOD??
Being born and brought up in some states of India has many advantages, but one and a very substantial disadvantage of it is "What people might think of you?" LOG KYA KAHENGE?? We have spent so many years of our lives doing things which we thought would make us amendable in the 'society' (as we call it), that we have lost what used to be us.
source
Think of all the times, you have fancied doing something that intrigued your mind, your heart but somehow you stopped, somehow you hesitated just because of the mere thought of "what people might say?" Firstly, the word is 'might', so it is indeed possible that the people that you are extremely concerned about might even support your act and have a constructive attitude towards it. Secondly, why are you so bothered about the opinion of a 'second person' about what YOU are doing? Should your happiness be influenced by a person other than yourself?? Aren't YOU supposed to be entirely accountable for your own happiness? 
REASONS WHY WE SHOULD NOT WORRY ABOUT 'LOG KYA KAHENGE' & FEW MOTIVATION TO GET OUT OF THE SYNDROME.
1. People would keep saying, COME WHAT MAY
                                                                         source
2. They would not stay with you when you lose a battle, only YOU are responsible for EVERY success and every defeat.
                                                                    source
If you fail because of LOG KYA KAHENGE, the same set of people would blame you who once gave lectures on the same.
3. The people who love to quote 'Log kya kahenge'? They themselves have never achieved anything in life or have done too little as per their own wishes. Hence, they want to stop others and crush your wishes too. It is a disease. Remember, it is contagious.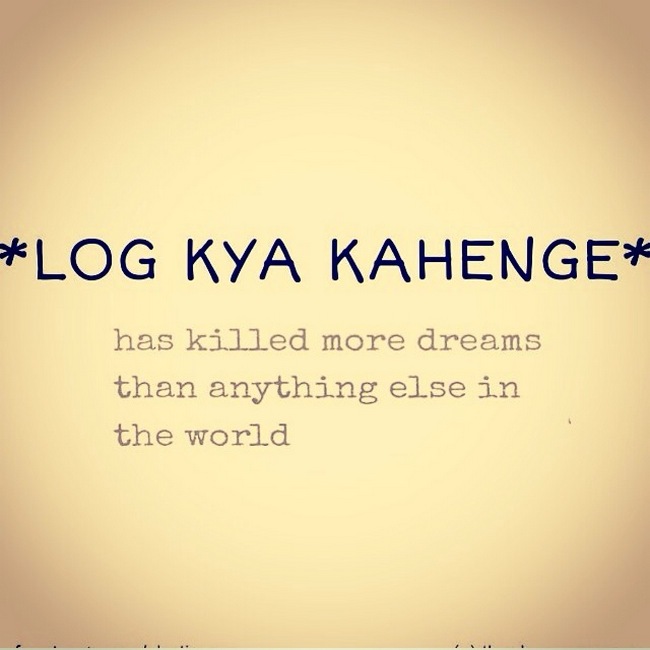 source 
4. If your elders did not, YOU need to set an example for the other.
                                                                            source
5. Your time is Limited to live someone else's life. If you are doing that you just exist, you are not living. Fight for yourself, nobody is going to fight for you.
6. Accept Yourself.
Embrace yourself, learn to be happy with you actions come what may and forgive yourself for your wrongs and never repeat them. Set your benchmark against yourself, growth can be achieved only with this. Never compare yourself with others, this would only bring unhappiness.
7. Your Clothes, Your Appearance should be YOUR choice; do not let others make you feel guilty about yourself.  Say NO to BODY SHAMING.
What people? What society? We are living in the 21st century. The type of clothes you want to wear, the type of languages you want to speak, the type of body you want to have, hair you want to style, the work you want to do, it all doesn't matter now. Families need to let their children follow anything that brings happiness, peace, redemption for them.  Don't let your children live a life where the ultimate steering is in the hands of approval or acceptance from the society. Until and unless the families do not let go of the very popular "What people might think?" thought in their minds, they shall never be able to free themselves from the prison in which they have been captivated since ages. 
Special Thanks to Snehal Ramchandani