No meal is complete without a dessert. Even if one doesn't have a sweet tooth, not having at least one scoop/spoon of dessert isn't a wise option. We all have accepted the Dairy Milk advertisement slogan of 'Kuch Meetha Ho Jae' ; isn't it?? There are innumerable places offering a wide range of desserts. At times, finding a place to have desserts is a challenging task. In case you are not aware of the speciality of the place, you might end up ordering something you would regret.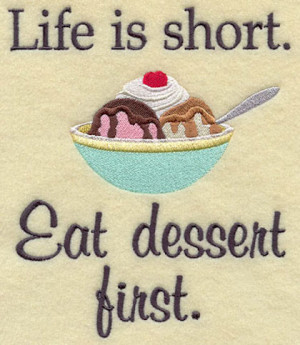 I have tried to compile some of the restaurants/outlets in Mumbai with the name of special dessert they have got to offer. They are mouth watering, eye candy sweet course and you just cannot avoid them.
1) Cream Tream at Akkad Bakkad Bombay Boo :
Location : near Kandivali Station.
This item is as interesting as the name of the outlet and the dessert. ' Cream Tream ' is a combination of Chocolate, Vanilla and Strawberry flavor prepared on a honey cake. 
Caution : The quantity served is very less so order accordingly.
2) Chocolate Explosion Waffles at Coffee by Di Bella :
Location : Mahim and Santacruz.
The dish is a combination of waffles, huge quantity of chocolate sauce, chocolate ice-cream. Most importantly the place is very cozy to hang on with your friends.
3) Gobstopper at Grandmama's Cafe :
Location : Juhu, Dadar and Lower Parel.
Flourless Chocolate layered with chocolate mousse and homemade marshmallows is definitely an eye candy. This place has a spectacular ambience too. 
4) Chocolate Landscape at Panaaya- Modern Indian Kitchen :
Location : Raghuvanshi Mills, Lower Parel.
Mud Cake, Mud Soil, Rich Brownie Chunks and oodles of Chocolate is tempting, mouth-watering dish. An interesting thing about this item is that it is prepared in front of you.
Caution : This could be heavy on your pocket
5) Ice-Cream Sandwich at K Rustom Ice-Cream :
Location : Address: 87 Stadium House, Opposite Ambassador Hotel, Veer Nariman Road, Churchgate.
It is known for its Ice-Cream Sandwich with a plethora of flavors. If you do not have a sweet tooth then try the chocolate flavor.
Caution : Difficult to locate. (Hence we have provided the address)
6) Oreo Sundae at Minus 301 Degrees F :
Location : Many places including Kandivali, Malad and Bandra.
While I am talking about amazing desserts, Oreo Sundae cannot be missed. Try it to believe it.
7) Hazelnut Chocolate Pot at Spesso Gourmet Kitchen :
Location : Nariman Point.
A Chocolate Pot filled with assorted brownies, Hazelnut mousse and nuts topped with Vanilla Ice-cream and hot caramel sauce. It is a signature dessert at Spesso.
Caution : Might as well be heavy on pocket, but definitely worth trying. 
8) 7 Layer Chocolate Cake at Chocolateria San Churro :
Location : Andheri and Bandra.
7 layers of dark belgian chocolate cake, chocolate mousse and chocolate ganache. It is a heaven on earth for all the chocolate lovers. 
9) Ferrero Rocher Mousse at Shrinathji's :
Location :  Many places including Lower Parel and Malad .
This pastry too is a delight for all chocolate lovers. You will be lost in the delicious liquid chocolate that would melt into your mouth.
Tip : Tell the guy to heat the cake a bit before serving . 
10) Nutella Well Cake at The Boston Cupcakery :
Location :  Many places including Andheri and Bandra.
Goes well with the name, it is full of nutella. This would never disappoint your taste buds.
While the above is not an exhaustive list, it shall give you a lot of less heard desserts. Have you tasted them? Not yet? Then go and taste them while I am having some dessert time with my beau <3
Picture Credits : Aanchal Mahajan
other sources burp and zomato